ENGAGE CUSTOMERS & DRIVE SALES
Digital displays offer a much greater range of capabilities and advantages than taditional static-based menu boards.
Types of Digital Menu Boards
Digital menu boards, also called DMBs or electronic menu boards, are a type of digital signage solution driven by content management software. Many of these solutions are plug & play type, making them easy to set up and manage.
Standard Digital

Menu Board
Standard digital menu boards are commonly found within restaurants and takeaways and have the appearance of a normal television. These screens are commercial-grade displays meaning they possess higher brightness ratings than standard TVs and are capable of 24h playback. Standard digital menu boards can be displayed in either landscape or portrait formats. These screens can be used alongside other screens to form a multi-screen video wall menu display.
Multi-screen

Digital Video Wall
Multi-screen video walls are becoming increasingly popular as a menu board especially in the food industry. A video wall is one large screen made up of smaller screens. The most common use case for a menu board is to display multiple screens in a row to give the illusion of one long screen. It's popular for users to segment sections of their video wall for different use cases. Individual screens can be used for showing different menus, promotions, or other content.
Outdoor Digital

Menu Board
Weatherproof outdoor digital menu boards increase customer engagement, draw attention to special offers and increase average order values. These high brightness outdoor displays show vivid images and are perfect for drive-thrus, outside the restaurant, gas station or even on the side of a food truck. Outdoor digital menu boards can be wall mounted or freestanding in the form of kiosk, tablet-style display, and case-enclosed display.
Commercial-Grade Digital Screens
Want eye-catching digital menu boards for your business? An engaging visual experience begins with high performance commercial grade screens. Whether it's the latest LED screens or LCD panels, we can help you to get the innovative technology your business needs from leading manufacturers at industry best pricing. We back it all with comprehensive warranties, local installation and responsive on-site service.
Available in variety of types & sizes:
Content for All Types of Businesses
Food always looks better when presented on a digital screen. With digital menu board solution, you can entice your customers with their favourite dishes. These digital menu boards allow you to show not just text messages, but also pictures along with engaging videos. You can even display documents, web pages, YouTube & livestream videos, etc. It's easy to schedule daily specials, promotions, and showcase new preparations.
Setting up digital menu boards by using ready to use customizable templates, helps to make the job easier. Menu board templates are offered in quite a few designs and can be displayed utilizing many different screen layouts. The split screen display and unlimited screen divisions allows simultaneously show a larger variety of content elements. This will streamline your service while saving time and money that would have been spent on manually updating your static menu boards.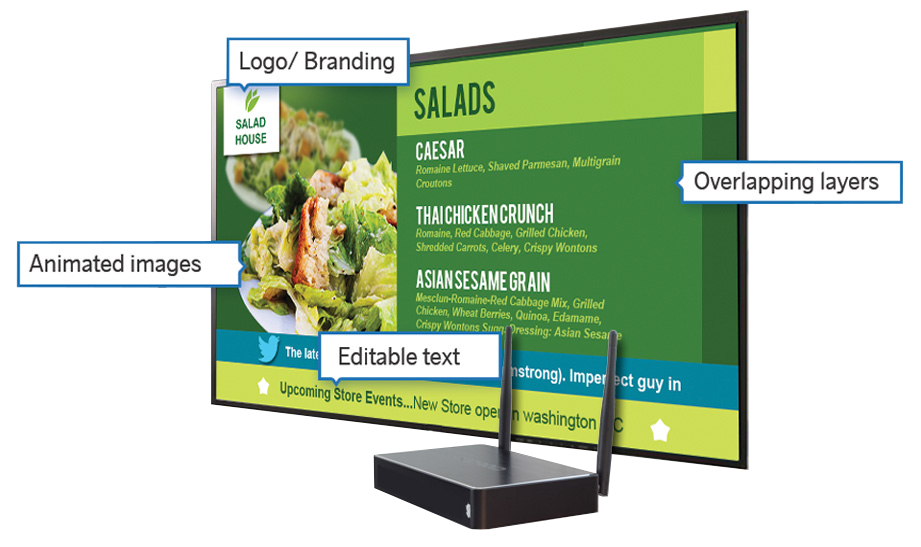 Easy Menu Board Management
Digital Signage Content Managemnet Software (CMS) is the magic that powers digital menu boards and allows users to manage a large number of screens centrally. Through cloud-based software, users are able to upload, create, edit, schedule, and manage their digital menus remotely using their computer or mobile device. Users can either create their menu boards from scratch or speed up menu creation with pre-made animated templates. You are not just limited to showing menus. With digital signage CMS, you can display videos, images, promotional content, and more.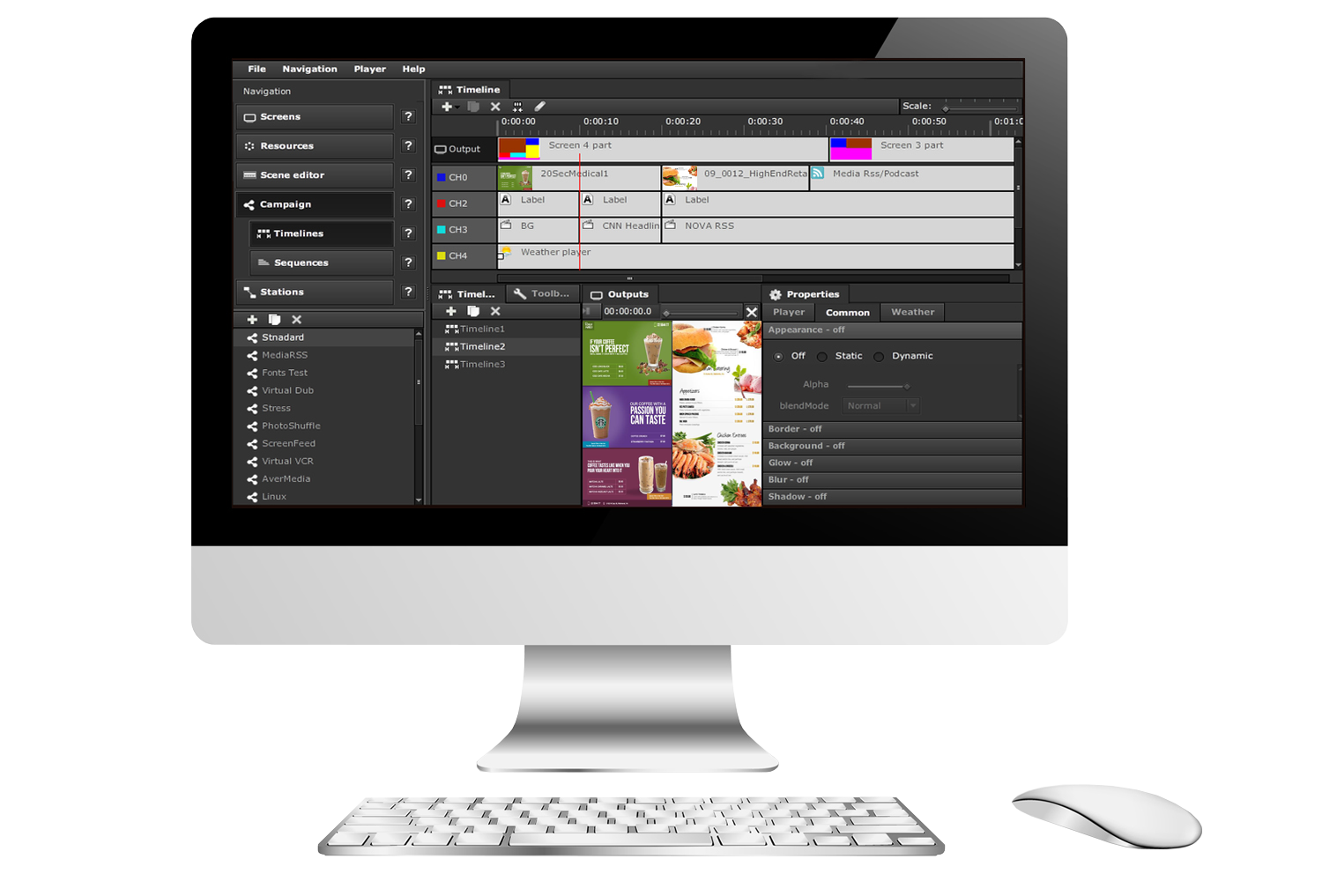 There is literally an unlimited number of uses for digital menu boards. Amongst the most popular include:
food advertising, showing reviews, displaying nutritional information, attracting passing customers, scheduling specials and promotions, self-serving functionality, extending your brand, drive-thru display, showing food videos, entertaining customers, etc.
To start your digital menu board project you will need to source the correct hardware and software. Of course, you can do your own research and buy all you need yourself. However, this can lead to a multitude of problems. Maybe the screens aren't bright enough, the media player isn't powerful enough, or the software is too restrictive? Issues like these are likely to result in a failing project. Therefore always discuss your project with your digital signage provider. If you choose us, we'll be able to identify what hardware and software is best for your project, and what's going to make it a success. We can either quote you for your project, or you may be able to buy what you need directly from our online shop.
Our software has been built with everyone in mind. This means whether you're a beginner or a seasoned veteran, you'll be able to create content with ease. It doesn't require knowledge within IT or computers, and everyone can create stunning digital signs for their company. It doesn't matter if you work at the reception or as a graphic designer.
They're extremely easy to use. In most situations, your digital signage menu boards will be plug-and-play. This means all you need to do is connect your media player to your screens and then connect to the internet. Once connected, you can start sharing and updating menu board content. Creating your digital menus is easy. You can either create them within the digital signage software using various widgets and tools, or you can upload pre-created menus as photo or video files from the design tool. If creating content still feels like a hassle or takes too long, turn to us or to other content creators for help. Then simply add in your menu items and send them to your screens. It really is that simple.